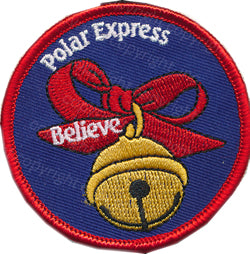 Polar Express
Patch details (2.5 inch sew on patch)
Complete One requirement to earn the patch
1. Take an adventure through a book or movie that involves trains or holiday theme.
2. Learn more about different celebrations of Christmas across the world. Choose a country to learn how they celebrate every year. Examples: Some countries celebrate with Father Christmas, Santa Claus, or receive candy in wooden shoes.
3. Attend a special event or a holiday party with this magical winter theme.
4. Learn more about the north pole or watch a movie that has the north pole in it.
5. Create a craft or jingle bell necklace that represents the polar express theme.
6. Draw a picture from a book or movie that represents the theme of the patch.
7. Holiday treats or decorated cakes are always an exciting to create. Create or serve fun food to feel the theme of the patch. Decorate cupcakes or cookies; cake, sparkle punch, or jingle bell shaped cookies.
8. Learn more about trains and how they work OR learn what the conductors job is.
9. Take a ride on a train and pretend you are going to the north pole.
10. Create community service around the holidays. Create a card, donate toys, books, pajamas, or help by adopting a child from the angel tree.

---
We Also Recommend