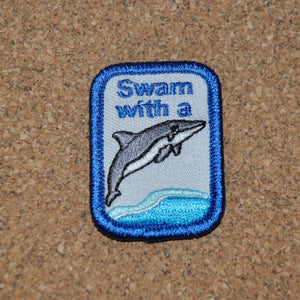 Swam with a Dolphin (IP)
Swam with a Dolphin  (complete 3 requirements)
Learn about areas where you can swim with a dolphin. What states or countries can let you do it?
Learn about what you need to wear to be able to swim with a dolphin. 
Name one thing you should do as a safety value while in the water with a dolphin.
 Swim with a dolphin, either in an ocean, man-made beach or in a closed bay, etc. 
Name two parts of a dolphin. What are they used for? 
What do dolphins eat? What should you not feed them? For extra, feed a dolphin. 
How should you safely swim with a dolphin? What is something you shouldn't do? 
Learn about what temperature water dolphins need to be in. How much space does it need to swim around? 
Interview someone that works with dolphins. What do they do? What do they wear? What is the best thing about their job? 
Demonstrate community service by helping clean up or restore an area with dolphins. 
Teach younger girls about swimming with a dolphin or dolphin safety.
Learn how dolphins communicate with people and other dolphins. Learn about dolphin communication technology. 
See a trick or cute motion that a dolphin can do. If you were a trainer, what would you teach the dolphin next?
---
We Also Recommend