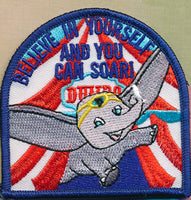 Believe in Yourself and you can soar! (Dumbo inspired)
This patch has an inspirational saying that will encourage you to believe
Inspired by an elephant that gets bullied because of his large ears. One day it believes in itself and discovers an inner strength and soars to new heights!

Patch details: (2.75 inches)
1. Watch a movie, read a book, or play about this inspirational story.
2. Being bullied is not a good experience. You can stand up against bullying as simple as wearing misfit socks with your group, participating in an event or report a bullying problem.
3. A good friendship is someone that makes you feel good about yourself and accepts you for who you are. Complete a fun activity with a friend.
4. Soar into your life and complete a goal. Examples: clean your room, learn to cook something, make better grades, do your homework, or help your parents more around the house.
5. Make a list of achievements you would like to accomplish in school or community. Try to achieve one every year.
6. Give back to your community and complete a project helping others soar and feel better.
7. Spending time with friends and family creating a crafts, cooking, or art project can be fun times. Example: Spend time with friends or family creating cards or art activities, picture frames, friendship bracelets, hair accessory, or homemade lip gloss.
---
We Also Recommend