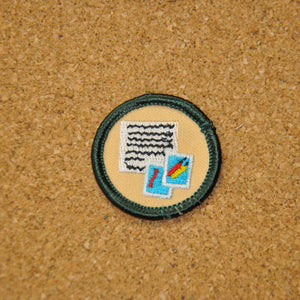 Communication (Junior Badge)
Communication (Junior Badge--complete 6)
1.Get the Message?
Think of a message you want to tell others. What's the best way to communicate our idea? Should you use words, images, colors? Show or read your piece to others.
Did they understand your message? If not, what could you change so that they  understand your message?
2. Signals
Put together a collage or poster with examples of different types of communication, such as semaphore, sign language, signal flags, international road signs, distress  signals, or a referee's signals. Learn one set of the above examples and teach
to someone else.
3.  Communication by dots
In the Braille alphabet, a pattern of raised dots represents each letter of the alphabet. A person who is blind can "read" with her fingertips by feeling the raised letters. Trying feeling dots on the alphabet written in Braille.   Try to writing a coded message using the Braille.

4.  Participate in a debate, or prepare and give a two-minute speech on a favorite subject.
5. Write a short news story about an event in your school or your troop. Submit it to the school newspaper, your Girl Scout council newsletter, or the girl scout website.
6. Write a short play. Read a few scenes of your play aloud to others. 
7. Notice all the advertising and commercial designs you see in a week, such as billboards, posters, signs, and ads on packages. Look at how color, lettering, and empty space are used. Create your own poster, sign, or package that uses what you've discovered.
8.Listen to several radio shows.
Then create a script and sound effects for a news program, music program, talk  how, or another kind of program you choose.

9. Making It Public
Think about what kinds of communication would be needed to do public relations work, then outline what you would do to promote one of the following:.
A party to open an art exhibit that introduces a new artist to the community
• A tour of your community to encourage business people to open stores
• A presentation to show parents and children a new science center
*A ceremony for an awards presentation in your troop or group
*A conference for international visitors to introduce them to your community.

10  Find out about careers in communication. Choose one of the following and explain why it could be an interesting job.  Reporter, editor, newscaster, speech therapist, interpreter, web write, audiologist, linguist etc.

---
We Also Recommend