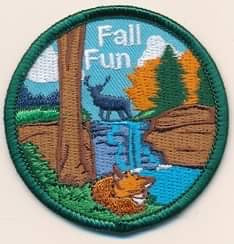 Fall Fun Patch
Patch Details: [2.5 inch patch] 90% embroidered
Have some fall fun and earn this patch. You only need to complete one fall activity to earn the patch.
Some activity suggestions:
1. Participate in a fall festival or create one of your own. Some fun activities include: Pumpkin rolling contest, square dancing, masquerade balls, contest or costume competitions, bake-offs, fall flings, bobbing for apples, etc.
2. Go through a corn maze.
3. Carve or paint a pumpkin.
4. Go on a hayride.
5. Go apple picking.
6. Visit a farm or petting zoo.
7. Explore nature and take a hike or go on a trail.
8. Learn more about the woodland animals that live in the fall forest. What do they eat or where do they live?
9. Participate in a parade or community event.
10. Complete a community service project add a fall theme to it.
11. Make a dessert or meal using a fall theme.
12. Make a craft using fall themed items. Like leaf shaped garland, cards for the community workers, OR creating a wreath.
---
We Also Recommend