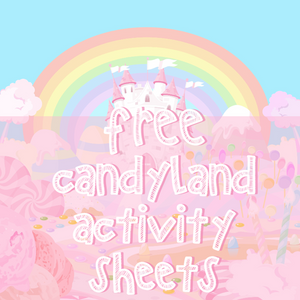 FREE Candyland Activity Sheets
These activity sheets offer more fun and fulfill the requirements of the Night in Candyland patch (get the patch HERE)!!
-
Follow the episodes of Candyland and complete the following fun tasks on paper for this exciting competition.  This is where your imagination and fun skills come in handy.

1.  Choose your candy land that you will be representing in your designs.  Chocolate Mountain, Lemon Lime Springs, Peppermint Forest, Gumdrop Mountain, or Lollipop Woods theme.
2.  1st challenge:  Draw and color a mystical and magical creatures the likes of which have never been seen before in Candy Land that match your land.
3.  2nd Challenge:  Draw and color OR use Legos creating an inventive way for the locals to get around in your land.  Whether by land, air or sea,  consider the unique terrain of of your land.
4.  3rd Challenge:  Draw and color a carnival themed element for your chosen land. Make sure it is fun colorful and delightful. 
5.  4th Challenge:  Draw and color a signature sport you created just for your land.
6.  Final challenge: You are on your way to the castle. You need to design a one-of-a-kind gift that will impress King Kandy.
---
We Also Recommend