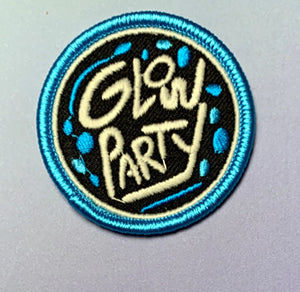 GLOW PARTY
Have a glow party by giving everyone glow sticks, bracelets or other glow in the dark items.  You can give them out at dances, slumber parties, camping or many other places that create a glow party.
Complete 1 requirement to earn this patch.
1.  Have a fun Glow Party with a festive patch! OR Host your own glow party or help out at one.
2. Enjoy glow party inspired treat or drink, like neon colored cupcakes, Jell-o, juice, or cookies.
3. Look at different glow party accessories at a store. Name at least 3.
4. Design your own glow party outfit or accessory on paper OR combine an outfit in real life.
5. Design or make your own decorations for the glow party. Some examples are: hanging up lights, designing neon posters, invitations, and designing a sign.
6. Black lights are the main source of fun at a glow party. Figure out how a black light works and 2 uses for it.
7. Play a game that involves a glow item. Some examples include: hot potato, glow stick tag, dance-off, musical chairs, the glow blob, and hide and seek.
8. Decorate a shirt in glow or neon paint, tye-dye, or puffy paint for your glow party.
9. Make a playlist of songs for a glow party and share with the host.
10. Go shopping for your accessories for the glow party. Some examples: glow necklaces, neon sunglasses, glow bracelets, neon shoelaces, light up necklace or headband.
11. Experiment with glow or neon body paint on your face or arms. Draw a nice design like a flower, swirl, star, or heart.
12. Make a look with make-up on paper, on a friend, or on yourself with neon or glittery looks. A fun, easy look is colored mascara or bright lipstick.
13. Finish your look with neon and glittery nail polish. Experiment with different colors and deigns.
14. Teach younger children how to play a game at a glow party OR donate your excess, unused glow items to a shelter so they can have some fun.
15. Budget and making a shopping list for a pretend or real glow party. Include food and glow items.
16. Learn more about a glow party or the 1980's.
17. Learn more about how a glow stick was invented, how they became popular, 3 useful uses for a glow stick in every day life OR create your own glow stick.
**NOTE: PLEASE don't open, break, or bite your glow items!! Please wash the infected place thoroughly if it accidentally breaks open. If necessary, call Poison Control.**
---
We Also Recommend