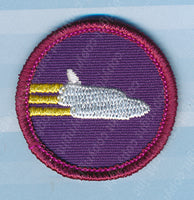 Space Rocket (artistic creation patch)
1.5 inch round patch
A space shuttle was used to  carry people and items into space. 

  Choose one to learn about.  When it was launched, color and size, who was on it, and where was it going?

A  spacecraft named Juno is studying Jupiter.  Find out more about Jupiter.  Size, color, distance from sun and how many moons it has.

  Rockets launch space shuttles and satellites in space. Find out where a launch happened, why and what did it launch?  What does a rocket look like?

What is an astronaut? Learn more about one and what missions or jobs they have been on?  What is their name and are they still in the space program?
---
We Also Recommend