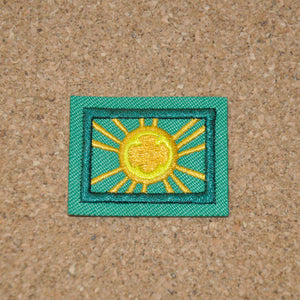 Sign of the Sun (Junior Badge)
Sign of the Sun Requirements (complete all requirements OR choose one when it says complete ONE that relates to...)
This sign is all about good health, good food, and leisure activities.
1. Use a piece of paper to create a 30-day activity record for a month. Each day you write in the box what physical activity you completed.  You can also choose one activity to complete every day for 30 days.  Examples of activities:  walking, running, dancing, swimming, PE at school, biking, roller skating, or riding a scooter.
2.  Complete one badge that relates to safety or first aid.
3.  Complete one badge that relates to staying fit, Practice with a purpose, walking, hiking, or exploring the outdoors, looking for animal habitats, etc.
4.  Complete one badge the relates to horses, gardening, flowers, photography of outdoor art, outdoor fun and looking for, camping, swimming, water fun, etc. 
5.  Complete one badge that relates to Health and fitness, healthy eating, simple meals, or cooking outdoors.
6. Complete on badge that relates to sports, geocacher, or hobbies.
7.  Complete one community service activity that involves fitness or health. Examples:  Volunteer at a health booth, help younger scouts earn first aid or health badge,  adult assist you take younger scouts on a hiking trail, help at a field day, teach a sport to a younger sibling or go letterboxing or geocaching with younger participants, camping, animal habitats, canoeing, horses, walking event, swimming. etc.
---
We Also Recommend