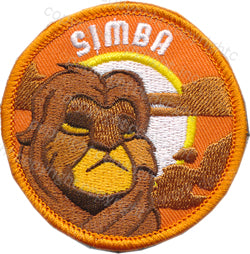 Simba
Patch Details: 2.50 inch/90% embroideredSimba Patch Program
COMPLETE 1 REQUIREMENT TO EARN THIS PATCH 
1. Watch an animal or cultural themed movie with lions.
2. Attend a special themed event.
3. Create a themed craft or activity about lions or Pride Land animals.
4. Read a story about lions or Simba.
5. Create a drawing of the lion or other animals in his Pride Land.
6. Learn more about Africa and the animals that reside there.
7. Fun food creations or decorated cakes are always an exciting to create. Create or serve fun food to feel the theme of the patch. Decorate cupcakes or cookies; lion cupcakes, sparkle punch, or paw print cookies.
8. Learn about different animals in Simba's world. What do they eat? What is the coloring and shape of their body?
9. Sing a song or act out a skit about African animals or Simba's life.
10. Help take care of your community like Simba does by giving to others through community service. Create poppy flowers, collect food, help an animal shelter, create and donate blankets. The ideas are endless.
---
We Also Recommend