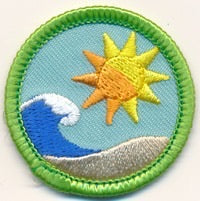 Water Fun & Sun Safety Mini Patch
Do 1 requirement to earn:
1. Before you have fun in the water. Learn some water safety rules. Example: Don't swim alone. Be aware of the tide levels, and don't jump off piers or cliffs. What other rules should you follow?
2. Learn about sun safety before you go outside especially near the water. What level sunscreen should you use? What type of fluids should you drink?
3. Create something from water. Examples: A drink, craft, or experiment.
4. Learn about the differnt bodies of water. Choose one and name two creatures that live in it.
5. Create a craft or item with a sun in it or using the sun to complete it.
6 Take a trip to the an area with water and sunshine. What would you pack? What kind of activities would you like to complete?
7. Complete a beach quiz or sea puzzle.
---
We Also Recommend