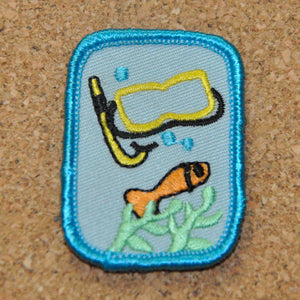 Water Life (IP)
Complete 4 Requirements to earn this patch (adult supervision is needed at the beach or near water)
1. Visit a water area and complete an activity.  Examples:  wade in waves, play in the water, float and relax, etc.
2.  Visit an aquarium and dip your hand in the water at a touch pool or other activity that involves water.
3.  Visit a park or nature area that offers water activities.  Examples: fishing, view pond animals, or any other program.
4.  Learn about waves and tides.  Know when it is safe to go to the beach and when.  Never go out during a storm or lightning.  When is the best time to go during high or low tide times?   What is an undertow or riptide? What happens if you are caught in one?
5.  Follow water safety rules whether you are snorkeling, swimming  or at a water park.  What are some of the rules posted near the water area?    
6. What is a lifeguard and why do you need one?  Do they have special training?  Name a pieces of equipment they use?
7.  Learn more about snorkeling.  What is it and where can you do it? What type of equipment do you need? After instruction, you can sometimes practice in the pool or water area you were trained in.
8.  Learn more about animals that live in the water. Choose one to learn more about. Their habitat, coloring and what they eat..
9.   Play a game that involves water.  This can be at the pool, field day at school, etc.  Never pull anyone under water.
10. Learn more about water safety in a pool. What should you do if you see someone drowning?  What are some of the pool rules?
11. Complete an experiment or art activity that involves water.
12.  Take swim lessons or practice swimming in the pool. What did you learn at lessons or what is your favorite stroke you already know.
13. Many of the sports in the international games relate to water. Watch the summer gamer or attend an event reflecting the same theme.
14.  Complete a water activity of your choice. Make sure you follow the rules and have adult supervision. 
---
We Also Recommend