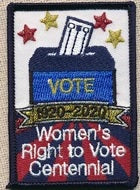 Women's Right to Vote Centennial Patch
Slides to earn the patch are HERE
Patch: (2x3 inch patch red, silver and gold metallic threads, 85% embroidered)
Women's Right to Vote Centennial Requirements (All ages complete 1)
1. What amendment of the constitution gave the women the right to vote? What year was it finalized?
2. What is a suffragette? What type of actions did they take and how did they change the rights for women?
3. Name a woman that participated in the women's right movement to allow women to vote. What did she do and when?
4. When did the suffrage movement start and end? Name or research 2-3 key events.
Complete a trivia game, crossword, or research some facts about the women's right movement.
5. Create a craft to represent the women's rights movement. Examples include: vote button or ribbon, ballot box, or sash.
6. Make a patriotic recipe to celebrate suffragettes. Examples include: patriotic cupcakes, barbeque, and golden delight drink.
7. Create a design for a cause on a piece of paper. Optional: make it a patriotic theme.
Create a "Vote For Me" poster. It can be voting for YOU, activity, food item, or anything you wish to vote for. Make your poster colorful and eye catching so they will VOTE FOR the item you are advertising.
8. Host a patriotic themed party to celebrate the centennial of women's right to vote. Optional: create invitations and decorations.
9. Honor a powerful woman in your life by celebrating them and making a card to honor them. Volunteer at a women's shelter, election campaign, elderly home, or with a younger troop to empower and/or help women.

---
We Also Recommend